The town of Fort Fairfield is busying getting ready for the 72nd annual Maine Potato Blossom Festival July 13 to the 21st.
There are a few new events this year including a kids closet clothing sale put on by the Fort Fairfield Housing Authority, historical tours of the town aboard Molley the Trolley and a Tough Tater and Tater Tot obstacle course.

There will also be the new Chamber's Smokin' Barbecue Cook-Off on July 13th put on by the Central Aroostook Chamber of Commerce. The cook-off starts at 8 a.m. and goes to 6 p.m. Judging begins at noon and peoples choice tasting from 2:30 to 4:30 p.m. Winners will be announced at 5 p.m.
The long time events will also be part of the festival again including pageants, class reunions, a movie under the stars, musical events and many kids and craft events.
The festival will also continue to stay true to its heritage and focus on traditional agricultural events such as a potato picking contest, mashed potato wrestling, antique tractor pulls and displays of farming technology throughout the years.
The most popular event of the Maine Potato Blossom Festival is the parade which will take place on Saturday, July 20 starting at noon. This is the largest parade in Aroostook County and draws huge crowds and many politicians. Line-up begins at 10am. The parade starts at the Fort Fairfield High School and goes down main st.
Traditionally, the Maine Potato Blossom Festival happens when the potato fields are in bloom. This year, however, it's not certain how many fields will be flowering because of the late start to planting. Keep your fingers crossed!
I Survived Picking Potatoes T-Shirt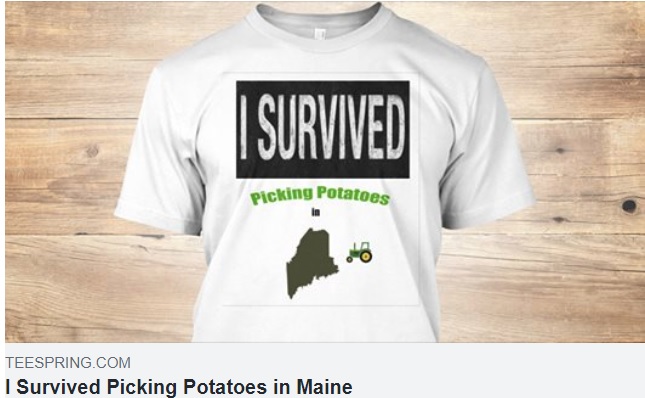 For many years in Northern Maine, school would recess in the Fall and kids would spend long hard days working in the potato fields. Pick up potatoes, fill a basket, dump the basket in a barrel and repeat. When the barrel was full you earned $0.25. Repeat until sunset or longer. Many kids would use the money to buy school clothes or other necessities. Were you part of this tradition?

** BUY NOW **