Movies in the Park 2018
September 7 @ 8:00 pm – 10:00 pm
Movies start at dusk in the Riverside park area. Movies are shown weather permitting. Movies in the Park are sponsored by Taco Bell. Popcorn is provided by Graves Shop n Save. Movie goers are encouraged to bring their own chairs, blankets and soft drinks. Updates can be found at www.presqueislepd.com. The movies are brought to you free of charge thanks to the Presque Isle Police Department.
Sept 7 Early Man
Bike Board and Ski Road Bike Ride
September 8 @ 7:30 am – 9:00 am
PRESQUE ISLE: Bike Board and Ski Road Bike Ride. Saturdays; 7:30 a.m. at BB&S rear entrance behind Northeastland Hotel. 20-30 miles; 1.5-2 hours. Pace: moderate to fast; 16-18 mph. All abilities ride; no mountain bikes. Focus on improving group riding skills, safety and etiquette. Spirited at times, but we regroup several times along the way. Contact Andrew Bouchard (207-551-7027) or andrew@bikeboardandski.com FMI
Welcome Week at UMPI
September 8 @ 10:00 am – 3:00 pm
Book Sale at Fort Fairfield Library
September 8 @ 10:00 am – 4:30 pm
Fort Fairfield Public Library will be hosting a book sale! Stop by and pick up hardcovers for 50 cents, paperbacks for 25 cents (unless otherwise listed). Cash only. Discover books for all ages, bestselling authors, literary treasures, and more! For more information, please contact Dianna Leighton at (207) 472-3880 or dleighton@fortfairfield.org
BikeMaine 2018

September 8 @ 2:00 pm – 9:00 pm
BikeMaine 2018 is headed to the St. John Valley and northern Aroostook County.
"BikeMaine is a celebration of Maine's people, places, culture, and food," BikeMaine Ride Director MaryBeth Luce said. "As we started to think about where we wanted to go in 2018, northern Maine – and specifically Aroostook County – really stood out for us. Geographically, Aroostook County is the largest county east of the Mississippi, and there's so much about northern Maine that we'd like to showcase for our riders, most of whom come from out of state. It's a very special place."
BikeMaine will visit the northern Aroostook County communities of Presque Isle, Caribou, Madawaska, Fort Kent, and St. Agatha.
September 8-15, 2018
Capped at 450 Riders
Presque Isle will be having lots of events on Saturday September 8th as well as Saturday September 15th! More information as the time gets closer.
Wide Awake and Dreaming Opening Artist Colleen Kearney-Graffam
September 8 @ 2:00 pm – 3:30 pm
Artist and adjunct Southern Maine Community College Faculty presents showcases a collection of art in an exhibition that begins September 8th and ends November 20th.
Annual Pig Roast
September 8 @ 4:00 pm – 6:30 pm
Tickets available from all officers, $15 in advance, $20 at the door. 50/50 with $2500 to the winner
Caribou Fly-In
September 9 @ 1:00 pm – 6:00 pm
The City of Caribou and the Caribou Municipal Airport committee are hosting a Fly-In on September 9th from 1-6 pm.
Come for the fun, food & fuel!
Stay for the epic event!
• 100LL Fuel only $2.99/gal.
• Each fly-in participant will receive a raffle ticket and a chance to win a free fill-up courtesy of the City of Caribou Events & Marketing Department.
• Lunch from The Warehouse Bar & Grill: Lobster Rolls, Chicken Salad sandwiches, Burgers, Potato Salad, & Warehouse Chips
• Shuttle to events in Downtown Caribou: the fun continues at Sunday on Sweden Street! until 9pm.
Please contact Shane McDougall at smcdougall1977@gmail.com for more information.
Special Edition: "Sunday on Sweden Street" with BikeMaine
September 9 @ 5:30 pm – 9:00 pm
Help us welcome our BikeMaine visitors!
Starts at 5pm:
Wildlife Encounters – 5:30pm, with the Friends of Aroostook National Wildlife Refuge
Mawitan'ej E'pijig – 6:25pm
La Recolte Cajun Band – 7pm
Plus, celebrate our Acadian heritage with prizes from our neighbors in Acadiana, courtesy of Lafayette, Louisiana!
Your favorite TOS food & craft vendors, the Maine Swedish Colony Dancers, Four-Season truck display, Crown Of Maine Productions, Inc. videos, free Photo Booth, a historic walking tour, and much more!
Northern Maine Brewing Co. LLC. and the Maine Beer Company will be there!
This will be epic ?
More information coming soon!
I Survived Picking Potatoes T-Shirt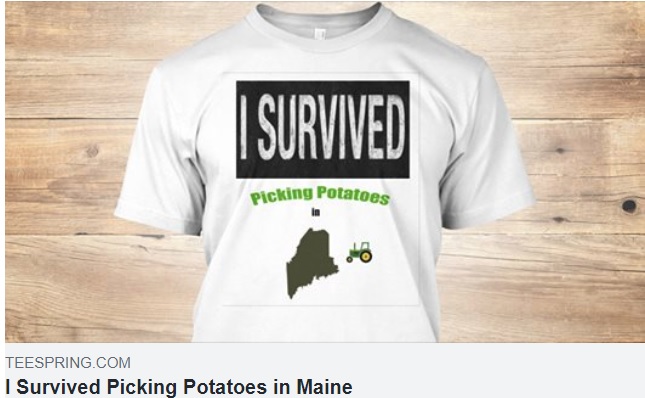 For many years in Northern Maine, school would recess in the Fall and kids would spend long hard days working in the potato fields. Pick up potatoes, fill a basket, dump the basket in a barrel and repeat. When the barrel was full you earned $0.25. Repeat until sunset or longer. Many kids would use the money to buy school clothes or other necessities. Were you part of this tradition?